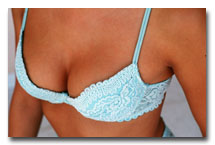 | | |
| --- | --- |
| It is imperative that you wear a proper fitting bra. If not, you will eventually have breasts that sag, back aches, shoulder aches, thinning skin and other problems. Many believe in formulas which determine your exact bra size, and while this can help and start you on the right path, it is most certainly individual. Try on a bra and wear it for a while and you will know if it is too large for you. Finding the perfect bra isn't impossible after your surgery, it just may be a little more difficult. But all in all, it is very important to find one which properly fits your frame and supports your breasts. | |
If your bra band is riding up in the back and if you find your self trying to lift your breasts by shortening your shoulder straps you are only doing your breasts a disservice.

Also very important, when buying a new bra it should fit snugly on the last setting (the loosest hook set) this way when your bra stretches with wear you can fasten it tighter if needed on the next two settings.

If you findpost-operatively that your bras bag at the nipple area, try purchasing a bra with Lycra in it which will conform to the breasts.

If you have that horrible quadruple-boob look, where you look like your breasts have been split in two and have that not so appealing double-decker appearance, you need a larger cup size.

Do your breasts fall out when you bend over? You may need more coverage.

Bra Care: It is best to either hand wash and line dry your bras or machine wash inside of a lingerie bag and line dry to extend the life of your bras. High heat will weaken elastic and ruin your bras.

Be sure to re-measure yourself in the event of weight gain or loss -- even if 7 to 10 lb -- pregnancy, or simply as time goes by. Measurements can vary over the years.
Measuring For Your Band-size

To determine your band-size (also called frame size or back size), measure around the ribcage with a tailor's soft measuring tape (like the one to the left). Start by wrapping the measuring tape snugly around your ribcage, directly under your breast lobes. Be sure that the tape is horizontal and doesn't sit too low or too high around your back. Next, add 4 if your measurement was an even number and 5 if the measurement was an odd number. For example, my ribcage measures 28 inches around. I add 4 to this measurement totaling 32.
Another example would be if your measurement was 29 inches, you would add 5, totaling 34. Your band-size would be 34. Same as if you measured 31 around the ribcage you would add 5 to this, your total would be a 36 -- and so on. This isn't an infallible system, but rather an approximation to start your bra quest with.
| | | |
| --- | --- | --- |
| Frame Measurement | Add 4 if an even number, add 5 if odd | Bra Band-size |
| 23" | +5 | 28 |
| 24" | +4 | 28 |
| 25" | +5 | 30 |
| 26" | +4 | 30 |
| 27" | +5 | 32 |
| 28" | +4 | 32 |
| 29" | +5 | 34 |
| 30" | +4 | 34 |
| 31" | +5 | 36 |
| 32" | +4 | 36 |
| 33" | +5 | 38 |
| 34" | +4 | 38 |
| 35" | +5 | 40 |
| 36" | +4 | 40 |
| 37" | +5 | 42 |
| 38" | +4 | 42 |
| 39" | +5 | 44 |
| 40" | +4 | 44 |
| 41" | +5 | 46 |
| 42" | +4 | 46 |
| 43" | +5 | 48 |
| 44" | +4 | 48 |
| 45" | +5 | 50 |
| 46" | +4 | 50 |
| 47" | +5 | 52 |
| 48" | +4 | 52 |
| 49" | +5 | 54 |
| 50" | +4 | 54 |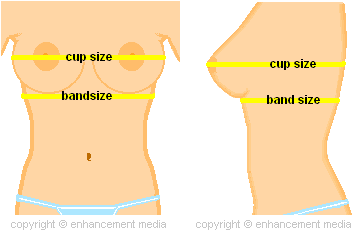 Bra Cup Sizes
To determine your approximate cup size, there are two common formulas. One way is to measure across and around your actual breasts. Some insist this must be perform while wearing a non-padded, thin fabric bra and others advise without a bra. I personally measure without a bra. However, if you have significant sag and redundant tissue, you will wear a larger cup size than someone who measures the same at the fullest part who has little to no ptosis. Redundant tissue still takes up mass and this mass will spill over a bra that is too small based on a measurement determined by the circumference at the fullest part of the breast. This is why it is important to use these measurements as a basis and not as a rule.
Center the measuring tape over the fullest part of the breasts (commonly across the nipples) and around the back and be sure that it is horizontal. Determine the measurement difference by subtracting the band size from the bust size measurement. For instance, my band-size is 32, by bust-size measurement is 37. According to the chart below, I would be a 32DD -- BUT I spill out of the top of a 32DD, I must wear a 32DDD/F. This is what I mean about being individual and not all formulas are going to work for you.
| | |
| --- | --- |
| bust-size minus band-size | = cup size |
| 0 to 1/2" | AA cup |
| 1/2" to 1" | A cup |
| 1" to 2 1/2" | B cup |
| 2 1/2" to 3 1/2" | C cup |
| 3 1/2" to 4 1/2" | D cup |
| 4 1/2" to 6" | DD (or E cup for some bras) |
| 6" to 7" | DDD (or F cup for some bras) |
| 7" to 8" | G cup |
| 8" to 9" | GG cup |
| 9" to 10" | H cup |
| 10" to 11" | HH cup |
| 11" to 12" | J cup |
| 12" to 13" | JJ cup |
The following method is actually patented by Dr. Edward Pechter of Valencia, California. You would determine your band-size as above (measuring the ribcage and adding 4 for even and 5 for odd). For the cup size you would start from the edge of the breast where it meets the side of your ribcage and then across the fullest part of the breast (commonly the nipple) to the other edge of the breast here it meets the sternum. I measured 11 inches which according to the chart is a DD cup. This method does not work for me. I have tried a 32DD, in fact I own a few for lack of options, and I spill out of every one of them and have an awful quadruple boob look. But it works for many women.
"Abstract: This relates to a method of direct measurement to determine cup size of the breast which includes band size measurement by initially measuring the user's chest or torso circumference with a flexible tape measure immediately below the breasts followed by the step of adding five inches to the measured number and incorporating conventional rounding-off procedures. Next, cup size is determined by directly measuring with the tape the circumference of each unclothed breast from the beginning of the breast mound at one side laterally to the parasternal area medially. Next, a measurement conversion is made wherein a measurement of seven inches corresponds to an "A" size cup, eight inches a "B" size cup, nine inches a "C" cup, etc. Each one inch increment determines a cup size." (#US19981998149186) Dr. Edward Pechter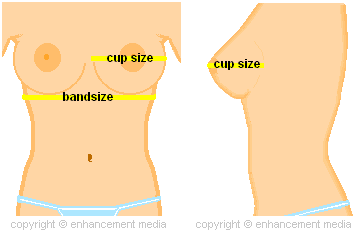 | | | | | |
| --- | --- | --- | --- | --- |
| Breast Measurement | Cup Size | | Breast Measurement | Cup Size |
| 7" | A | | 13" | G |
| 7.5" | Full A | | 13 1/2" | Full G |
| 8" | B | | 14" | GG |
| 8.5" | Full B | | 14 1/2" | Full GG |
| 9" | C | | 15" | H |
| 9.5" | Full C | | 15 1/2" | Full H |
| 10" | D | | 16" | HH |
| 10.5" | Full D | | 16 1/2" | Full HH |
| 11" | DD (or E cup for some bras) | | 17" | J |
| 11 1/2" | Full DD (or E cup for some bras) | | 17 1/2" | Full J |
| 12" | DDD (or F cup for some bras) | | 18" | JJ |
| 12 1/2" | Full DDD (or F cup for some bras) | | 18 1/2" | Full JJ |
As your band-size increases, your cup size will as well. Regardless of your method, a 34D is going to be larger in the cup than a 32D. If you wear a 32DD, don't get a 34D because you think it will fit correctly. Get the correct size for both parts of the equation. If you get the 34D because it fits your breasts better, but it fails to stay snug around your rib cage, your breasts are not getting proper support.
Bra Straps
Bra straps should be comfortable, not dig trenches into your shoulders, not irritate your skin and should also not be used as the primary support feature for your breasts. The band is the primary support feature. Bra straps may be thin or wide and may even come padded or clear. There are strap extenders for those who need more strap length if your torso is longer than average. But always remember, the straps should not be digging into your shoulders. If this is the case, your band size may not be snug enough and not giving you the proper support.
How Do I Know If My Bra Fits?
Comfort is important, however support is equally important. You may find that you fit perfectly in bras from Victoria's Secret but smaller in Wacoal bras. Don't be surprised by a varying fit.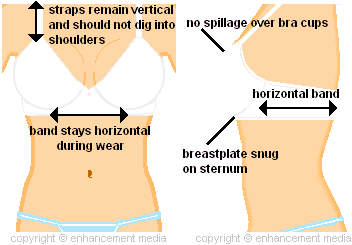 Is the band snug, but not so that it is cutting off your circulation or causing you pain?

Is the band horizontal or is is riding up your back? If it is riding up your back you need a smaller band-size.

Is the bra rubbing against or gaping away from your sternum? If it is too tight, try going down a size. If it is too loose you need to be sure that it rests firmly up against your breastbone.

Are the bra straps digging into your shoulders? Try loosening them a bit, the support should primarily come from your band.

Are your breast spilling out of your cups? If so you need larger cup size, is it gaping, try a smaller cup size.

Try wearing it around for a few hours and do another check.
Does Your Band Size Decrease After Breast Reduction?
No, no, and no! If it did, it is because of your swelling or you gained or lost weight during your downtime. Your band size is determined by your rib cage measurement under the breast lobe. NOT your breast cup size. Please ladies, find a bra which fits you and stick with it unless you gain weight. If you were a 34D before surgery and went down to a B cup, you are going to be a 34B, not a 36B or 38B.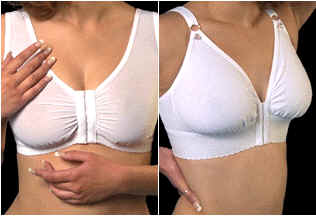 Sleep Bras & Support Garments For Sleeping
I personally wear a bra to sleep every night. It is so much more comfortable. I find that standard sports bras push my breasts into my arm pits but that cupped models or regular bras keep them where they belong, on my chest. However, regular bras are not comfortable to sleep in and also ruin the bra since they are not designed for sleep. A good sleep bra should be supportive, yet sturdy and comfortable. Most sleep bras are soft cups and have no underwire and are very comfortable, a refreshing change if you wear underwire by day. Try Design Veronique Support Bras. They make some excellent supportive bras, these are the only bras I will use now for sleeping and for recovery.
The Intimia Breast Pillow

Irene Komsky, R.N. designed the Intimia Breast Pillow after she began noticing wrinkles on many of her patients' cleavage area. After interviewing her patients on their levels of sun exposure, skin care and other habits, Irene determined that the damage was being caused by her patients' sleeping habits as well as the elements. After extensive research and product prototypes, The Intimia Breast Pillow was born.
Online Bra Distribution
Here are some links to companies that sell bras in the larger cup sizes with hard to find smaller band sizes. Also on these sites are the more common bra sizes as well. Remember, it is important to have the correct band size that fits snugly under your breasts, around your ribcage and doesn't ride up your back. If you don't you'll be spending even more money getting another breast reduction/lift. All-sized breasts need support. Also, if you have no luck with a bra ordered online, if you haven't gotten it dirty, modified it or changed it in anyway you can usually return it.